The future is local
Are 'temporary locals' the new frontier in travel? Thoughts on...
Are 'temporary locals' the new frontier in travel? Thoughts on...
Travel has always been the perfect escape from the day-to-day; a long-awaited European holiday, a Mediterranean beachscape, equally getting lost in the mazes of colourful markets and foreign chatter. The most universal books, films and art have been inspired by a sense of wanderlust that can captivate the masses; the undeniable quality of being somewhere else, with the emphasis on the being. But what does travel mean now that we have collectively been through so much globally, from the expanding, freeing sense of seamless travel, and even from the selves we have always known?
Delving deep into our own cities and discovering people and places has become a supreme priority – the ultimate way to travel now. Investing in the experience of the day as a place and as an individual, while tapping into the dual sides of the same coin – remaining a traveller and a local, all-in-one, is the newfound trajectory of life.
One of the main differences between restorative travel and travelling like a local is the separation from work. The ability to access both puts us all at an advantage of achieving the seemingly perpetually unattainable work/life balance. The global trend of 'workations' are at their peak, enabling people to have their cake and eat it, too. The hospitality industry is putting more and more focus on total turn-key solutions for locals and travellers that are one and the same. As travelling has become imbedded in the way we all live, this flexibility encourages the ability to do anything from anywhere, hopping from one destination to another and consuming more for longer periods of time. This fully-integrated vision of a complete hospitality platform includes extended stay guests, transient guests, and everyone in between who is welcome to integrate. This approach heightens the urban experience of any city as one comprehensive platform.
New hospitality projects like The George Tel Aviv exist to create the ideal setting for people to become temporary locals in their very own destinations.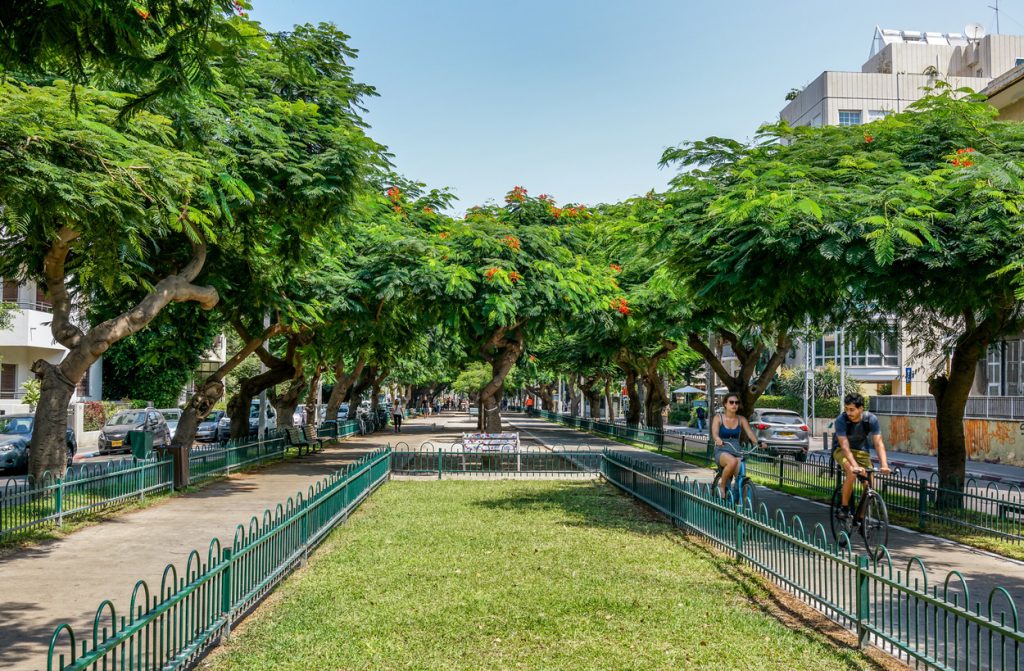 Seeking restorative experiences is at the height of how we live now. Priorities have shifted dramatically and existing in this day and age has accelerated the need to fix our future; to regenerate ecosystems, reimagine neighborhoods and revolutionize businesses while finding adventure in our daily lives.
According to recent travel trends forecasted by Condé Nast Traveler in 2021, authentic and unique experiences are more important than luxury and our connection to people, and particularly, locals are what make travel truly unforgettable.
While sustainability and responsible travel are more important to consumers than ever, now is the time to put all of our eggs in our homebase basket.
Divia Thani, Global Editorial Director at Condé Nast Traveler is on a mission to 'make the world local'. As she puts it: "It's no longer defined by 800-thread count sheets. It's all about unique and authentic experiences, wherever you are. A meal of steaming thupka soup in the home of a local artist high up in the Himalayas might cost you $2, but it's priceless. It's a memory that you'll cherish forever. That's real luxury."
Just as 'fast fashion' has been deemed passé and detrimental to the earth and consumers, so is the idea of 'travel for travel's sake'. Tapping into how to make a trip meaningful through fulfilling experiences is the ultimate opportunity for people to observe, reflect, share, question and re-imagine places, while both living and working.
The George has manifested the notion that the borders between work and leisure is the experience; a place to enjoy the best of what local hospitality can offer, as either a permanent resident or a temporary local. It is natural to want to be a part of something holistic and definitive. Here, you can just be – and enjoy the full offering in one beautiful, celebratory space.